Product Description
ViewSonic XG2530 25" Full HD 1080P Gaming Monitor

El ViewSonic XG2530 es un monitor eSports que ofrece una frecuencia de actualización nativa de 240 Hz y un tiempo de respuesta muy rápido, que se combinan para ofrecer la experiencia de juego más flexible y más suave hasta la fecha en escenas de acción rápidas, permitiéndote seguir el ritmo y atacar a tu objetivo con facilidad, durante una experiencia de juego competitiva tensa. Además de varios ajustes predeterminados para FPS, RTS, MOBA, así como modos personalizables de usuario, este monitor de juego competitivo viene equipado con el modo ColorX predefinido, especialmente diseñado para ofrecer el rendimiento excelente para el juego Overwatch, incluyendo la más alta frecuencia de actualización, el tiempo de respuesta más rápido y un rendimiento de color óptimo; los jugadores pueden activar estos ajustes de rendimiento optimizados con solo presionar un botón. El monitor también proporciona ajustes de configuración que se pueden establecer más detalladamente, incluyendo 5 niveles de ajuste del tiempo de respuesta, 22 niveles de estabilización de negro y una matriz de configuración de relación de aspecto, proporcionando un arsenal de personalizaciones para adaptarse a tu estilo de juego específico.


Características del producto
Más rápido que los oponentes
Un tiempo de respuesta ultra rápido de 1 ms reproduce las secuencias de acción con una claridad visual impresionante, sin manchas ni efecto fantasma, lo que te permite reaccionar más rápido bajo presión.
Rendimiento
Cumpliendo el compromiso de ViewSonic con el juego competitivo, el XG2530 ofrece una frecuencia de actualización de 240 Hz, eliminando eficazmente las brechas en la pantalla para mejorar la maniobrabilidad y la suavidad de tus juegos favoritos.
Optimizado para la velocidad y el color
El XG2530 incluye el modo ColorX integrado, un ajuste preestablecido de color y rendimiento con una visión del juego enormemente mejorada y un menor desenfoque del movimiento para ayudar a los jugadores a lograr sus objetivos.
Visión clara
El Black Stabilization proporciona una visibilidad nítida mediante la manipulación independiente de la escala de brillo en las zonas oscuras, asegurándose de que nadie puede ser invisible. Dos niveles adicionales proporcionan a los jugadores 22 niveles de flexibilidad, mejorando tu control de las sombras.
Resolución y tamaño de pantalla óptimos
ViewScale te permite cambiar la vista del monitor para que se adapte a tu gusto. Cambia instantáneamente entre cuatro tamaños de pantalla diferentes o aprovecha ViewScale y disfruta de la flexibilidad para adaptar libremente el contenido de la pantalla a cualquier tamaño personalizado.
Visibilidad mejorada
El ajuste de saturación de color proporciona a los jugadores un control completo sobre el dinamismo de la imagen, lo que les permite manipular el calor o el frío de la imagen para adaptarse a su ojo.
Confort para los ojos
La tecnología Flicker-Free (libre de parpadeos), y Blue Light Filter (filtro de luz azul) de este monitor ayuda a minimizar la fatiga visual como consecuencia de largos períodos de visualización.
Product Information provided by the Manufacturer
ViewSonic XG2560 Full HD 1080p Gaming Monitor
240Hz refresh rate
NVIDIA G-Sync™ Technology
Rapid Response Time
Black Stabilization for Ultimate Visibility
Game Mode Hotkey
NVIDIA Ultra Low Motion Blur Technology
When your gameplay relies on split-second decisions and pure instinct, you need a gaming monitor as fast as your reflexes. With an incredible 240Hz refresh rate, as well as NVIDIA's G-Sync Technology™, the ViewSonic® XG2560 monitor virtually eliminates screen tearing and stuttering so you can react instantly and in the moment. The XG2560 also combines NVIDIA ULMB (Ultra Low Motion Blur) technology with a 1ms response time to deliver incredibly smooth, blur-free gaming and crystal-clear visuals. For a game-winning competitive edge, a Game Mode feature optimizes visuals for FPS, RTS and MOBA. On top of that, a black stabilization function helps you target enemies lurking in the dark, while the monitor maintains brilliantly rich colors and contrast. With a gamer-inspired ergonomic stand that features an integrated headphone hook and cable management functionality, the XG2560 has all you need to conquer your gaming and entertainment quests.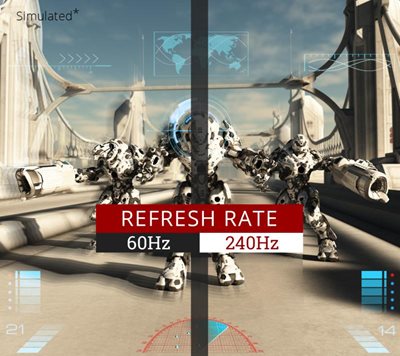 240Hz Refresh Rate
With a swift 240Hz** refresh rate, this monitor delivers greater visual fluidity and awesome graphics no matter how quickly the in-game action unfolds. Say goodbye to annoying tracers and motion blur, and up your A-game with the smoothest visuals possible.

**240Hz with DisplayPort 1.2a and HDMI 2.0 connection port.
*The image contained herein is simulated to reflect an image under different resolution (or scheme) for demonstration purposes only, and may not be the actual image displayed from the product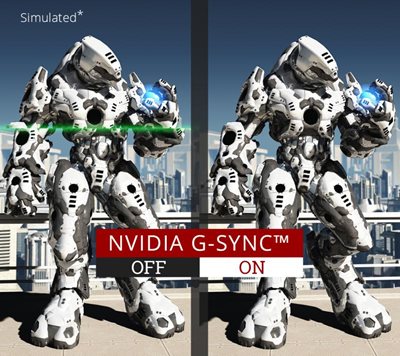 NVIDIA G-Sync™ Technology
NVIDIA® G-SYNC™ technology seamlessly synchronizes the frame rate output between your graphics card and monitor. This eliminates screen tearing, and minimizes stutter and input lag for the most breathtaking gameplay experience.

*The image contained herein is simulated to reflect an image under different resolution (or scheme) for demonstration purposes only, and may not be the actual image displayed from the product.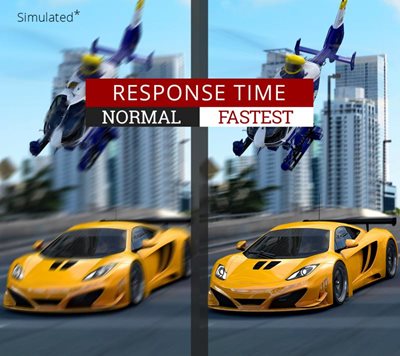 Rapid Response Time
With a stunningly quick 1ms response time, this monitor delivers smooth images without streaking, blurring, or ghosting. This monitor also features 5 levels of rapid response rate (Standard, Fast, Faster, Ultra-fast, Fastest) that helps to correct "overshoot" and motion blur when gaming at high refresh rates. For any and all fast-paced action sequences, you'll be glad your monitor reacts as quickly as you do.

*The image contained herein is simulated to reflect an image under different resolution (or scheme) for demonstration purposes only, and may not be the actual image displayed from the product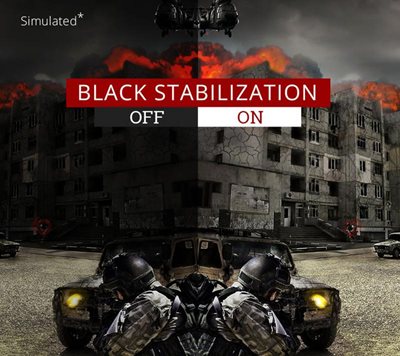 Black Stabilization for Ultimate Visibility
ViewSonic's Black Stabilization feature provides heightened visibility and detail by brightening dark scenes. Dominate the competition with enhanced visibility, even in the darkest scenes of a video game.

*The image contained herein is simulated to reflect an image under different resolution (or scheme) for demonstration purposes only, and may not be the actual image displayed from the product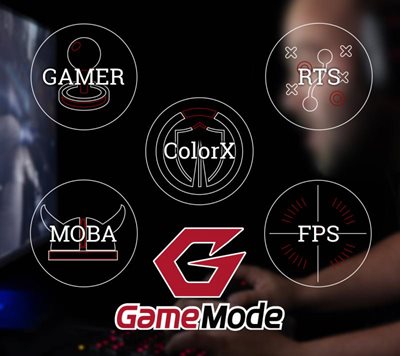 Game Mode Hotkey
A Game Mode hotkey opens pre-calibrated settings that deliver a great blend of color and technology for specific gaming scenarios. A "ColorX" option delivers the optimal refresh rate, response time, and color ideal for first person shooting games. In addition, three customizable "GAMER" settings provide individual user preferences for specific games.
Low Input Lag
When the action on the battlefield gets intense, you need a monitor that can process every command from the keyboard, mouse, or controller as soon as they occur. With a built-in process reducer, this monitor does just that – decreasing the delay between all inputs, and allowing you to react in real time against any competitor.
Monitor Hz Cap
Select the desired refresh rate to cap the Hz output of your monitor. This decreases power and loading from your gaming card, and helps to create an ideal gaming experience depending on your specific gaming scenario.
Versatile Connectivity
DisplayPort and HDMI inputs give you the freedom and flexibility to connect to your dedicated graphics card and gaming console.
Ergonomically Designed for Gamers
To lock in that perfect angle necessary for drawn out epic gaming sessions, this monitor features a fully adjustable ergonomic stand capable of considerable swivel, pivot, tilt, and height adjustment. An integrated headphone hook keeps your headphones within arm's reach, while a cable management design reduces clutter around your gaming space.
3-year Limited Warranty
Have peace of mind in the quality and reliability of your ViewSonic monitor—backed by one of the industry's best pixel performance policies and a 3-year limited warranty.
Custom Field
Product Reviews